ABOVE: A $1,500 grant from Operation Round Up was awarded to the Osceola Historical Society, where volunteer members are working to digitize 100 years of local newspapers. 
Polk-Burnett's Operation Round Up awarded $9,677 to nine nonprofits serving our community October 7. Fall grants will go to programs that support youth, families and senior citizens.
Fall Operation Round Up grant recipients are:
1. Milltown Public Library, $1,000, activity bags for senior citizens
2. Grantsburg Community Education, $1,000, STAR mentoring program for students
3. Town of Lorain Fire Department, $1,000, light bar, emergency flashers and speaker for brush truck
4. Luck Senior Citizens Center, $1,500, exterior building staining and caulking
5. Clear Lake Museum, $1,000, newspaper archives and preservation of Sen. Gaylord Nelson papers
6. Grantsburg Village Improvement Program, $1,000, community splash pad
7. Healthy Burnett, $677.30, website
8. Osceola Historical Society, $1,500, digitize 100+ years of local newspapers
9. Skonewood Retreat, $1,000, security lights, electrical rewiring, Wi-Fi installation
Funding for Operation Round Up is donated by members of Polk-Burnett Electric Cooperative who round their monthly electric bill up to the next even dollar amount. Grant recipients are selected quarterly by a committee of co-op members, with financial donations awarded to nonprofit organizations that improve our local quality of life.
"Polk-Burnett is pleased to support our community through Operation Round Up, and we thank our members for their participation and generosity. Operation Round Up aligns with our co-op values and enables us to power our community with more than electricity," said Polk-Burnett General Manager Steve Stroshane. "Together, we are making a difference."
Nonprofit organizations interested in applying for a grant or co-op members who'd like to round their bill up in support of Operation Round Up may contact 800-421-0283 or our Operation Round Up webpage. The next application deadline is December 1.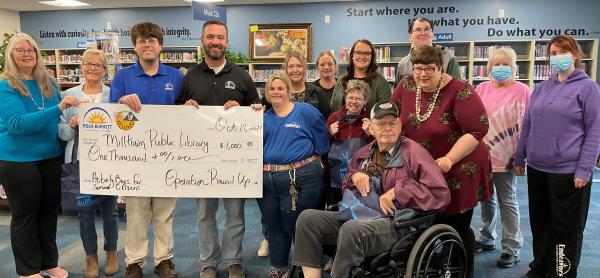 ---
Milltown Public Library sends activity bags to area senior citizens each month thanks to a community partnership. Bags are assembled by volunteers from Endeavors Adult Development Center and delivered to local seniors through Meals on Wheels. Contents of the bags include a reading book, an activity book, a movie or music CD, small treats or candy, and practical items, such as a pen or pencil. Polk-Burnett's Operation Round Up presented a $1,000 grant to help support the program. 
---
Polk-Burnett Electric Cooperative's Operation Round Up awarded $1,000 to Grantsburg Community Education for its STAR Mentoring Program, where students in grades K-8 are paired with adult mentors from the community. Mentors and students connect in the spring and fall for one-on-one and group activities.