Above: Amery High School received a $1,000 grant from Polk-Burnett's Operation Round Up to help the junior class tour universities and technical colleges. 
Polk-Burnett Electric Co-op's Operation Round Up awarded $16,705 to 19 nonprofits serving our community this winter. Amery High School and Ruby's Food Shelf are two local programs that received a financial boost this quarter, thanks to the generosity of electric co-op members. Grants also benefited three libraries, two historical societies and students at St. Croix Falls, Turtle Lake and Webster schools.
Funding for Operation Round Up is donated by members of Polk-Burnett Electric Cooperative who round their monthly electric bill up to the next even dollar amount. Grant recipients are selected quarterly by a committee of co-op members, with financial donations awarded to nonprofit organizations that improve our local quality of life.
"Polk-Burnett is pleased to support our community through Operation Round Up, and we thank our members for their participation and generosity. Operation Round Up aligns with our co-op values," said Polk-Burnett General Manager Steve Stroshane. "Together, we are making a difference in our community."
Grant recipients for winter 2020 are:
1. Workforce Resource, $600, resource kits for youth
2. Amery High School, $1,000, college visits for juniors
3. St. Croix Falls School District, $1,000, blazers for students in SkillsUSA Club
4. St. Croix Falls Historical Society, $900, handicap ramp for Little Red Schoolhouse, Polk County Fairgrounds
5. Restorative Justice of Northwest Wisconsin, $1,000, program to assist victims and offenders
6. Clear Lake Public Library, $1,000, 100 large-print books
7. Interfaith Caregivers of Burnett County, $1,500, firewood for seniors and people with disabilities
8. Turtle Lake FFA, $400, aquaponics indoor garden system and fish tanks
9. Friends of Amery Public Library, $500, adult programs
10. Friends of Larson Family Library-Webster, $1,000, early childhood books
11. Healthy Burnett, $305, website
12. Grow SCV, $500, family game nights
13. Ruby's Food Shelf, $1,500, food for people in Siren and Webster areas
14. Softec, $1,000, career exploration for Webster students
15. Burnett County Fresh & Healthy, $1,000, helping people select and prepare healthy foods
16. Polk County Historical Society, $1,000, WWII and military exhibits
17. Ruby's Medical Clinic, $1,000, new light fixtures for clinic in Luck
18. Rowdy Red Hat Mamas of NW Wisconsin, $500, crisis care kits for women
19. Osceola Area Chamber & Main Street, $1,000, LEDs for Luminate Downtown
Nonprofit organizations interested in applying for a grant or co-op members who'd like to round their bill up in support of Operation Round Up may contact 800-421-0283 or our Operation Round Up webpage. The next application deadline is March 1.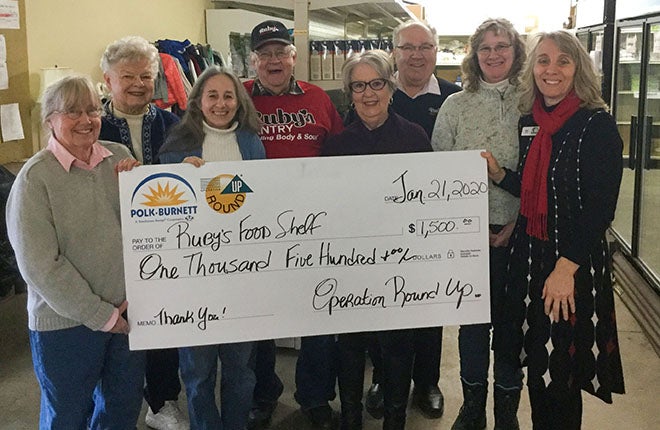 Ruby's Food Shelf in Siren received a $1,500 grant from Polk-Burnett's Operation Round Up in January 2020.